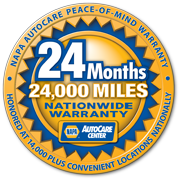 The NAPA AutoCare Peace of Mind Warranty
Covers Parts and Labor on Qualifying Repairs and Services for 24 Months/24,000 Miles.

There's no greater peace of mind than knowing you have one less worry by having your vehicles serviced by the professionals at your local NAPA AutoCare Center. They stand behind their work with the NAPA AutoCare Peace of Mind Warranty.

It's a written warranty that is honored at more than 14,000 locations nationwide - more than any other automotive repair brand.

So - no matter where your travels take you - if you ever experience a problem with a covered repair, you can count on a NAPA AutoCare Center being nearby.



What are the Benefits to You?
Included FREE with your qualifying repair or service work.
Covers parts and labor on qualifying repairs and services for 24 months/24,000 miles.
Extend your coverage to 36 months/36,000 miles when you use your NAPA AutoCare EasyPay Credit Card (applications available at participating locations).
Honored nationwide by thousands of NAPA AutoCare Centers, so you're protected even when you travel.
1-800-LET-NAPA (538-6272)
I was involved in an accident, and Circle Automotive was called in to tow and store my vehicle. For 2 months I have been back and forth with 3 different insurance companies and Circle Automotive has been a GOD SEND. They have been amazingly helpful and patient - not only offering guidance but also HELPING me get the insurance companies to move. I really cannot say enough and will DEFINITELY be using them as my repair shop once I'm back behind the wheel! THANK YOU SO MUCH CIRCLE AUTOMOTIVE!
I wish I could give a MILLION STARS. Police called for a tow. I was rescued by the owner of CIRCLE AUTOMOTIVE during the storm of 1/23/16 At 1AM off of Route 1. Not only was I rescued, He was GOD SENT, HONEST AND KIND considering the weather. I wasn't ripped off. The owner and his employees took GREAT care of me and more importantly, my Madza RX8. I pray never to have to be rescued again, but if I have to I will call them. I recommend anyone who is in need to call them too. MANY, MANY THANKS!